Countless business owners and consumers are opting for commercial HVACR units. Since these units have a higher capacity, it's crucial to keep them maintained. Unfortunately, that can become a problem, especially when you can't find trusted commercial refrigeration services.
However, don't worry; we've got you covered.
We're Los Angeles's leading commercial refrigeration company— Airplus Refrigeration Inc., and we offer the solution to all your commercial HVACR needs.
If you're unsure whether we're the right company to hire, read on to learn what sets us apart from the rest.
We Offer Overall Commercial Refrigeration Services
At Airplus Refrigeration Inc., we offer overall commercial HVACR services. Whether you want to install a commercial unit, maintain or perform any other services, we're your one-stop solution for it all.
This can be incredibly convenient for individuals since they don't have to look for different professionals for their commercial units.
Our Professionals Can Service All Makes and Models
Have you ever called a commercial HVACR company for a repair or installation, but they failed to do the job because of your unit's model or make? If yes, we have some good news for you. The top reason you need to hire our professionals for your commercial units is we're experienced enough to handle any HVACR problem.
Our expert team is trained and equipped to manage commercial HVACR units of all makes and models. So, you don't have to stress about working with a professional that can't fix your unit; we'll surely do the job.
Our Services Are Affordable
Owning a commercial HVACR unit owner isn't easy; you already know how costly those bills are, especially if you aren't using an energy-efficient unit. Not to forget, commercial refrigeration repairs and services are usually expensive too.
If you're tired of spending on commercial refrigeration services that aren't even satisfactory, our professionals can help you. What sets us apart from the crowd is the fact that our services are affordable.
We offer the best rates possible without compromising on the quality of our services.
We're Always Available for Our Clients
HVACR units can break down anytime and start malfunctioning without warning. When you have a commercial HVACR emergency at an odd time, finding professional assistance can be a little challenging. Well, not anymore!
At Airplus Refrigeration Inc., we offer our services all around the clock. Whether you call us in the afternoon or the middle of the night, our experts will be there to help you.
Moreover, we keep our emails, phones, and other communication means open and available for clients to reach us. So, don't hesitate to ring us up.
Ready to hire our commercial refrigeration services in Los Angeles?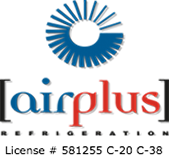 At Airplus Refrigeration, Inc., we offer commercial refrigeration services, commercial ice machine repairs, installation, rentals, and more.
Our experts can service deli cases, walk-in freezers, walk-in coolers, bar refrigerators, and more. We also offer residential wine cellar services for individuals interested in designing and installing wine cellars.
Reach out to us to learn more about our services.